3D Printing and 3D Scanning Demonstrations create experiences everyone will be talking about. Hire us to draw the crowds to you.
GET A QUOTE
3D Printing Demos
We bring the 3D printers to your booth, including all the necessary equipment and answer attendee questions.
3D Scanning Demos
Dazzle your audience with our 3D scanners and watch a 3D scan take form within minutes!
3D Printed Items
Let us create custom colored 3D printed objects (keychains, logos, bottle openers, coins, etc.) with your logo or from our stock designs.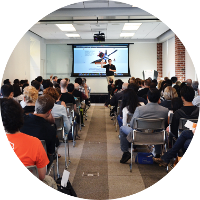 Team Building Events
Bring your team together with a fun and educational experience. Lecture based and hands on options available.
Pancake Bot Demos
Your attendees will love to watch and try a 3D printed pancake! Within minutes this new food 3D printer will wow your attendees!
GET A QUOTE
3D Doodler Pen Demo
Anyone can use this handheld 3D printed pen that draws in the air to make 3D objects. No experience needed.
GET A QUOTE
Lecture & Book Signings
Want a more intellectual experience? The founders of HoneyPoint3D will be on hand passing out signed copies of their new paperback book called "Getting Started with 3D Printing" and can be hired for private events.
Want to read the book before your event?
Corporate Offices (By Appointment Only)
3018 Willow Pass Road #201 & #206
Concord, CA 94519
(001) 1-510-516-6127
Se Habla Español